---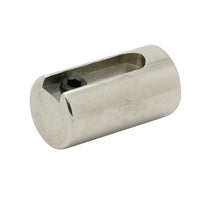 This polished stainless steel hammer is a "MUST HAVE" upgrade for the Empire Sniper and Empire Resurrection.  It moves the hammer cocking point further back so the gun only cocks when the bolt has cleared the breech and will allow the next ball to drop.  This helps prevent short stroking the gun and breaking paint.  This hammer is 10% heavier than the stock Empire Sniper and Empire Resurrection hammer.  This means you can back out the IVG to approximately flush with the back of the gun and still get full velocity.  With a pump gun this means the pump stroke to cock the gun will be lighter and smoother.  With an Autococker this means you can get a fast rear cocking stroke, run lower LPR pressures, and make the gun gentler with how it handles paint.  This is a UNIVERSAL hammer that can be used in ANY Midblock or full body guns including those older guns from WGP as well as the newer guns from Empire and body kits from Inception Designs. It has the cocking slot milled on the top, and the back is threaded for 10-32 cocking rods.  It comes with a hardened hammer lug, urethane friction plug to stop the hammer lug from moving, and a locking set screw to tension the urethane plug.  It has an extra threaded hole in 10-32 which can be accessed from the hammer slot in the body and can be used to tighten a nylon set screw against the cocking rod to prevent it from coming loose.  Cocking rods, with nylon set screws are available separately.
Features:
10% Heavier Hammer

Recessed Cocking Point

Compatible with ANY mid block or full block bodies
Hardened Hammer Lug
Urethane Friction Plug on both Lug and Cocking rod.